Program
All time references are to Lisbon, Portugal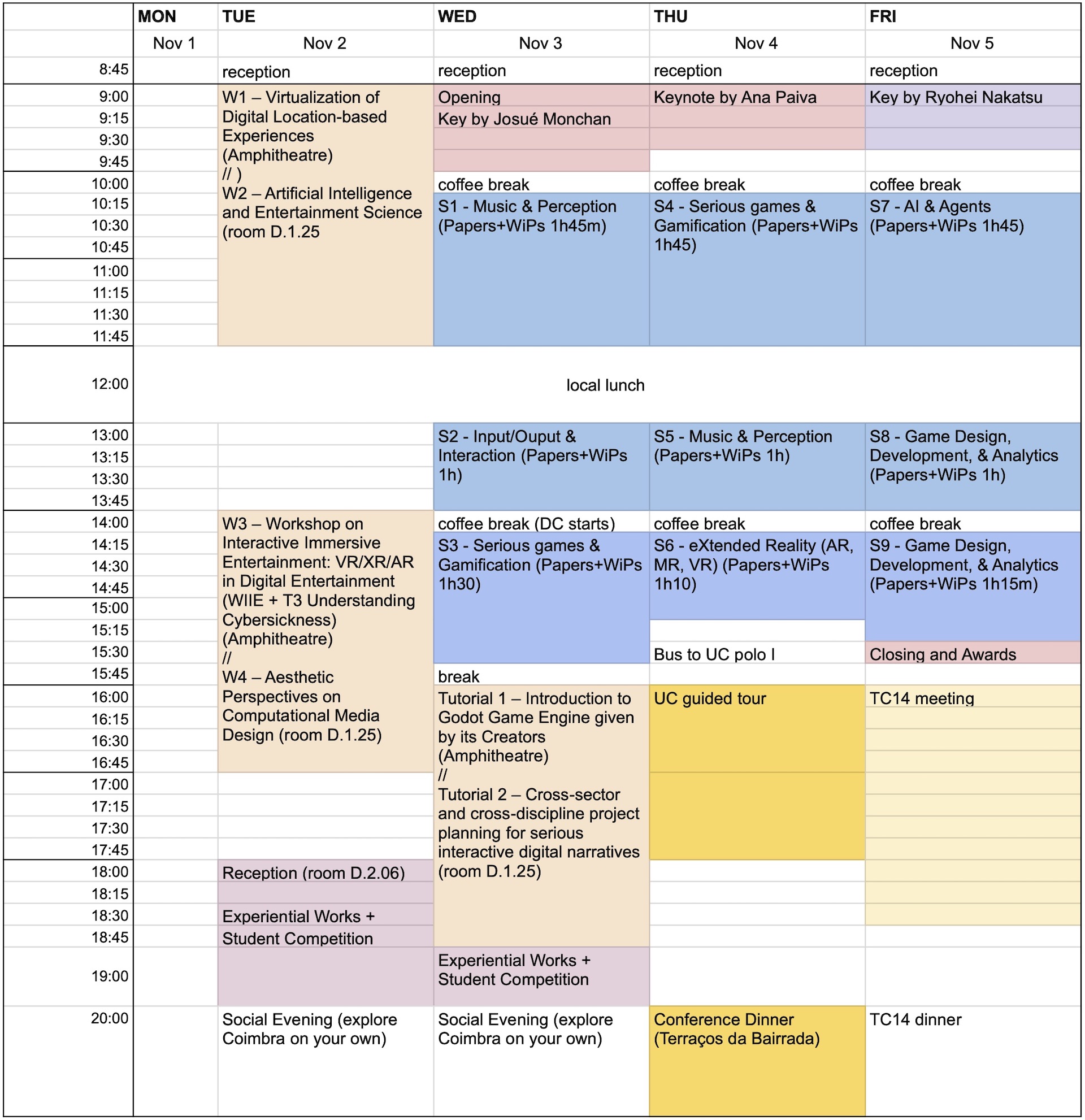 The Conference Proceedings have been published by Springer and are free to download this month, you can find them here.


Paper Sessions

November 3rd
10:15 – Music & Perception (S1)
A Real-time Drum-wise Volume Visualization System for Learning Volume-Balanced Drum Performance
Mitsuki Hosoya, Satoshi Nakamura, Masanori Morise and Yoshii Kazuyoshi
Social Gaming Patterns During a Pandemic Crisis: A Cross-Cultural Survey
Aakash Johry, Günter Wallner and Regina Bernhaupt
reco.mu: A Music Recommendation System Depending on Listerner's Preference by Creating a Branching Playlist
Kosuke Nonaka and Satoshi Nakamura
Linkages between Gameplay Preferences and Fondness for Game Music
Jukka Vahlo, Oskari Koskela, Kai Tuuri and Heli Tissari
Identifying the Impact of Game Music both Within and Beyond Gameplay
Kai Tuuri, Oskari Koskela, Jukka Vahlo and Heli Tissari
13:00 – Input/Ouput & Interaction (S2)
Speech Recognition Game Interface to Increase Intimacy with Characters
Saki Anzai, Tokio Ogawa and Junichi Hoshino
A Method for Supporting Verbalization to Facilitate Observation in Illustration Copy-Drawing
Ippei Sugano and Satoshi Nakamura
Optimization of First-Person Shooter Game Control Using Heart Rate Sensor
Zhou Shuo and Segawa Norihisa
14:15 – Serious games & Gamification (S3)
Fun to Enhance Learning, Motivation, Self-efficacy and Intention to Play in DGBL
Gabriella Tisza, Sijie Zhu and Panos Markopoulos
Kill or spare – Moral decision-making in video games
Elisabeth Holl and André Melzer
Murder on Mansion Hill: Encouraging Collaborative Group Storytelling to Improve Motivational Aspects of Literacy Using Gameplay & Arts-Based Techniques
Simone Downie
Virtual Guia Fortress: a 3D-printed eXtended Reality Playset
Iok Chau Fong, Jorge Cardoso and Gerald Estadieu
Interaction Toolkit for Programming Interactions with Marker-based Tangibles in Virtual Reality
João Mesquita and Jorge Cardoso

November 4th
10:15 – Serious games & Gamification (S4)
Cultural Emotion Games as Trajectory Learning in Southeast Asia
V. Sithira Vadivel, Insu Song and Abhishek Bhati
Provenance in Gamified Business Systems
Michelle Tizuka, Esteban Clua, Luciana Salgado and Troy Kohwalter
The Gilmorehill Mystery: A Location-based Game for Campus Exploration
Kieran Swedlund and Matthew Barr
A VR-based Serious Game Associated to EMG Signal Processing and Sensory Feedback for Upper Limb Prosthesis Training
Reidner Cavalcante, Aya Gaballa, John-John Cabibihan, Acimar Soares and Edgard Lamounier
Amnesia in the Atlantic: an AI Driven Serious Game on Marine Biodiversity
Mara Dionisio, Valentina Nisi, Jin Xin, Paulo Bala, Stuart James and Nuno Jardim Nunes
A Review on the Contribution of ClassDojo as Point System Gamification in Education
Rabab Marouf and Joseph Alexander Brown
13:00 – Music & Perception (S5)
Comparison of Viewing Contents Using Large LED Display and Projector by Psychological Evaluation
Ryohei Nakatsu, Naoko Tosa, Hiroyuki Takada and Takashi Kusumi
How Awe Affects Players' Entertainment Experiences Over Six Weeks of Playing
Daniel Possler, Christoph Klimmt and Nicholas D. Bowman
Fundamental Study of Color Combinations by Using Deuteranope-Simulation Filter for Controlling the Handicap of Color Vision Diversity in Video Games
Yuka Fujiwara and Satoshi Nakamura
14:15 – eXtended Reality (AR, MR, VR) (S6)
Instruction Pictograms for Interactive Entertainment
Kei Kobayashi and Junichi Hoshino
Performative Virtual Scenes: A Dynamic VR Environment Design Approach
Nuno N. Correia, Stephan Jürgens, Raul Masu, Jochen Feitsch and Ivana Druzetic
Safety Risks in Location-Based Augmented Reality Games
Munir Makhmutov, Timur Asapov and Joseph Alexander Brown
Investigating Impact of Augmented Reality on Game Design to Facilitate Learning Experiences in Logistics Operations using Immersive AR Interfaces
Fatima Sundus, Jannicke Baalsrud Hauge, Prabahan Basu, Jakob Baalsrud Hauge, Anindya Chowdhury and Artem Schurig

November 5th
10:15 – AI & Agents (S7)
A Symbolic Machine Learning Approach for Cybersickness Potential-Cause Estimation
Thiago Porcino, Flavia Bernardini, Erick O. Rodrigues, Daniela Trevisan and Esteban Clua
AI Game Agents based on Evolutionary Search and (Deep) Reinforcement Learning: a Practical Analysis with Flappy Bird
Leonardo Thurler, José Montes, Rodrigo Veloso, Aline Paes and Esteban Clua
A Taxonomy of Social Roles for Agents in Games
Diogo Rato and Rui Prada
Basic Research on How to Apply Foundation Makeup Evenly on Your Own Face
Miho Kajita and Satoshi Nakamura
Assessing the Support for Creativity of a Playground for Live Coding Machine Learning
Francisco Bernardo, Chris Kiefer and Thor Magnusson
Sketch Recognition for Interactive Game Experiences Using Neural Networks
Elif Hilal Korkut and Elif Surer
13:00 – Game Design, Development, & Analytics (S8)
That sound's Juicy! Exploring Juicy Audio Effects in Video Games
Jolie Smets and Erik van der Spek
What is a Game Mechanic?
Priscilla Lo, David Thue and Elin Carstensdottir
Computational Narrative Blending Based on Planning
Edirlei Soares de Lima, Bruno Feijó and Antonio L. Furtado
14:15 – Game Design, Development, & Analytics (S9)
CS:Show – An Interactive Visual Analysis Tool for First-Person Shooter eSports Match Data
Robin Horst, Stefan Manuel Zander and Ralf Dörner
Game Development as a Serious Game with Live-Programming and Time-Travel Mechanics
Anthony Savidis and Alexandros Katsarakis
Towards Suitable Free-to-Play Games for Children
Andreas Kristiansen Melzer, Anna Kristine Roarsen, Marte Hoff Hagen and Letizia Jaccheri
Recreating a TransMedia Architectural Location In-Game via Modular Environment Assets
Nataska Statham, João Jacob, Mikael Fridenfalk and Rui Rodrigues
Keynotes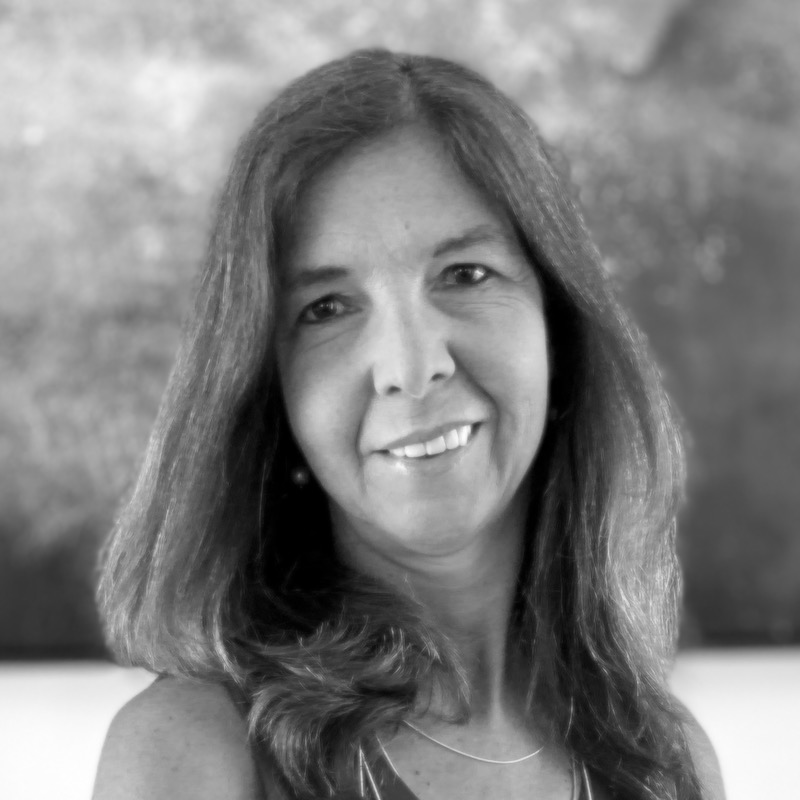 Ana Paiva
Nov 4th, 9h00 (Lisbon time)
The world is changing! Intelligent and autonomous machines are entering not only our workplace but also our homes. And as such, machines must be social. I believe that one of the challenges that the areas of Artificial Intelligence (AI) and Robotics face nowadays is how to make machines "social", that is, how to endow agents and robots with social interaction capabilities enabling them to interact with humans and with other agents in a natural, flexible and transparent way. Ana Paiva's research focuses on the problems and techniques for creating social agents that can simulate human-like behaviours, be transparent, natural and eventually, give the illusion of life. Over the years I've dealt with this problem by engineering agents that exhibit specific social capabilities, including aspects such as emotions, personality, culture, non-verbal behaviour, empathy, collaboration, and others.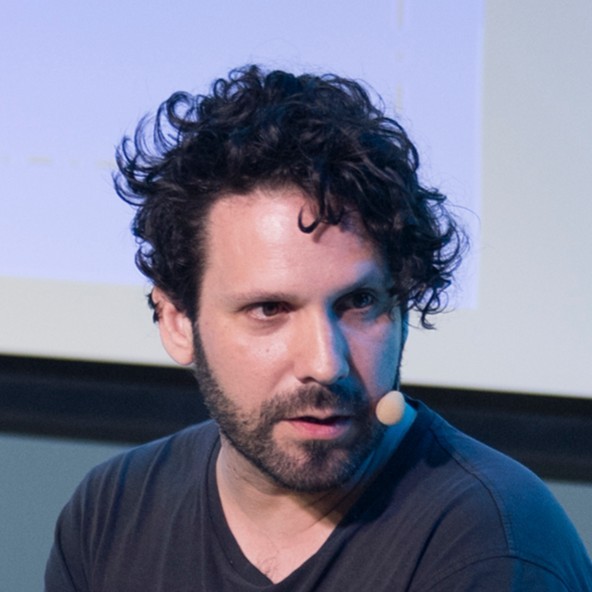 Josué Monchan
Nov 3rd, 9h00 (Lisbon time)
A narrative and localization specialist for games raised inside Spanish developer Pendulo Studios, where I participated in the Runaway, Hollywood Monsters and Yesterday sagas, plus our latest game, Blacksad: Under the Skin (Best Action-Adventure Game at Gamescom 2019), the first game adaptation of Eisner winner comic book series. Nominated twice for "Excellence in Storytelling" at the IMGA 2013 Awards, eventually won by fabulous The Walking Dead by Telltale. Awarded "Excellence in Storytelling" at Game Connection San Francisco 2015 for the noir-horror game Blues and Bullets. Driven by a "tout savoir" spirit, I've also participated in other departments, such as Bus Dev, PR, Game Design, and Project Management. Besides, I've collaborated as Narrative Designer and Writer for a bunch of Spanish games developed by Delirium Studios, Evil Mind Entertainment, A Crowd of Monsters, Abylight, and PadaOne Games, among others.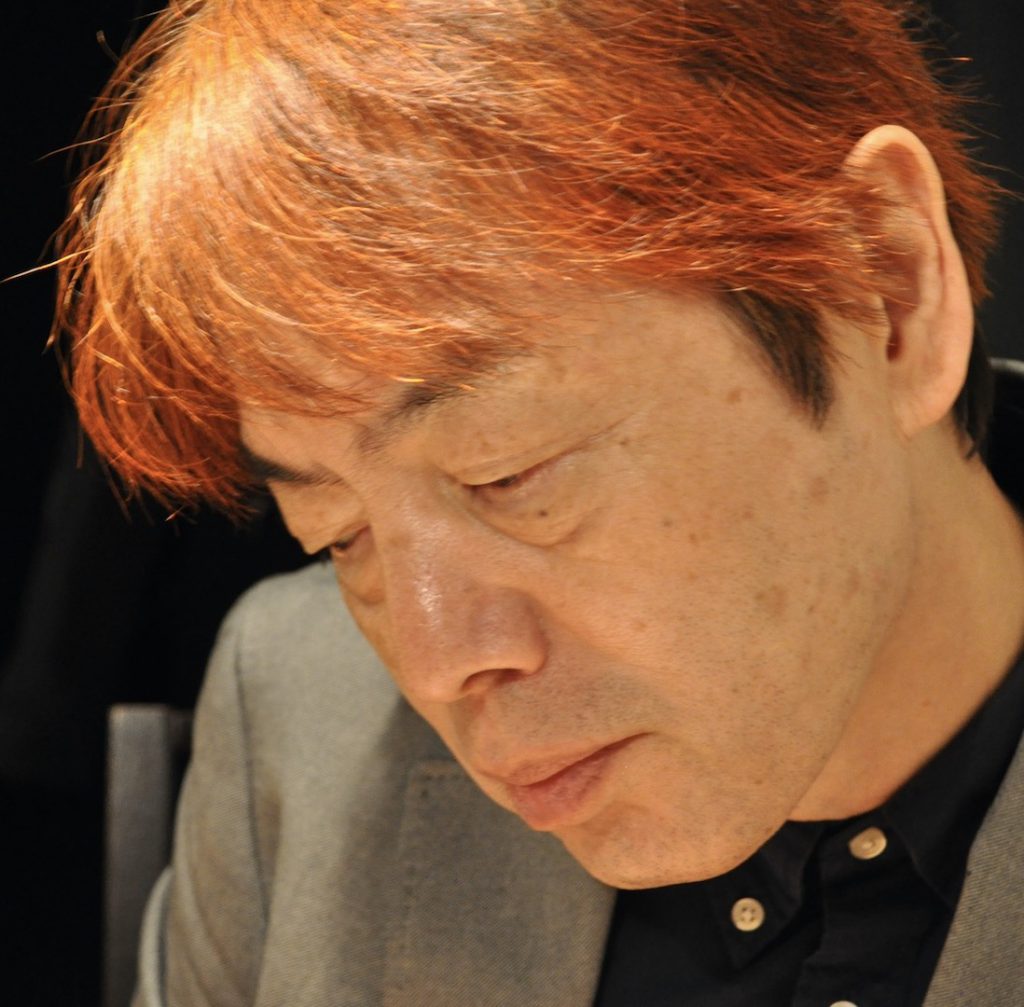 Ryohei Nakatsu
Nov 5th, 9h00 (Lisbon time)
Entertainment covers a wide area and art is one of the key elements of entertainment. Since ancient times art has been the basis of our mental and spiritual life. On the other hand, AI is progressing rapidly in recent years and already it has surpassed the logical aspect of human intelligent capability. But it is not clear whether AI can compete with human mental or creative capability. Recently there have been several kinds of research to let AI generate artistic images. However, still, we cannot say that AI has gained an art creation capability. I have been interested in using AI to investigate the long-time question of what art is or what beauty is. In my presentation, I will talk about my recent research investigating this and several related topics.
Ryohei Nakatsu received the B.S., M.S., and Ph.D. degrees in electronic engineering from Kyoto University in 1969, 1971, and 1982 respectively. After joining NTT in 1971, he mainly worked on speech recognition technology. In 1994, he joined ATR (Advanced Telecommunications Research Institute) as Director of ATR Media Integration & Communications Research Laboratories. In 2002 he became a Professor at the School of Science and Technology, Kwansei Gakuin University. From March 2008 until December 2014 he was a Professor at the National University of Singapore (NUS) and was Director of Interactive & Digital Media Institute (IDMI) at NUS. Now he is serving as Adjunct Professor at Design School, Kyoto University. Also, he is serving as CEO of NT & Associates.
His research interests include interactive media, entertainment technologies, and communication robots/agents. He was a founding chair of the IFIP Technical Committee on Entertainment Computing (TC14) from 2006 until 2012.

Registrations
As you know, we will run an hybrid conference which means we will be organizing a face to face program with all the usual requirements. For attendees coming to Coimbra we will host the conference physically and provide daily lunch and coffee breaks. The Conference dinner is included with the registration, as well as a tour of the old city and university.

Attendees that chose the "Distance" option will be provided a link to participate remotely.

We require that at least one author per publication registers either using the "Regular, Authors and discounted" or the "Student Authors". All other can chose what best applies.

The registration modalities are as follows.
Regular (late registrations, Oct 1 to 15th)    500€
Regular, Authors and discounted IFIP/ACM/SPCV    450€
Student (incl. Student Authors)    200€
Remote participation    25€
We will process registrations through the easychair service.