Venue

WHERE TO STAY?
We recommend that participants stay near the city center (please take the "Hotel Astória" as the central reference, near the Coimbra-A train station) as you will be in walking distance from many restaurants, the University of Coimbra historical site, and several social events and visiting sites.

The current planned venue is Instituto Pedro Nunes (Univ of Coimbra technology transfer agency) that is located in easy access by public bus transport from the city center. Walking distance can be more than half-hour from city center depending on your pace.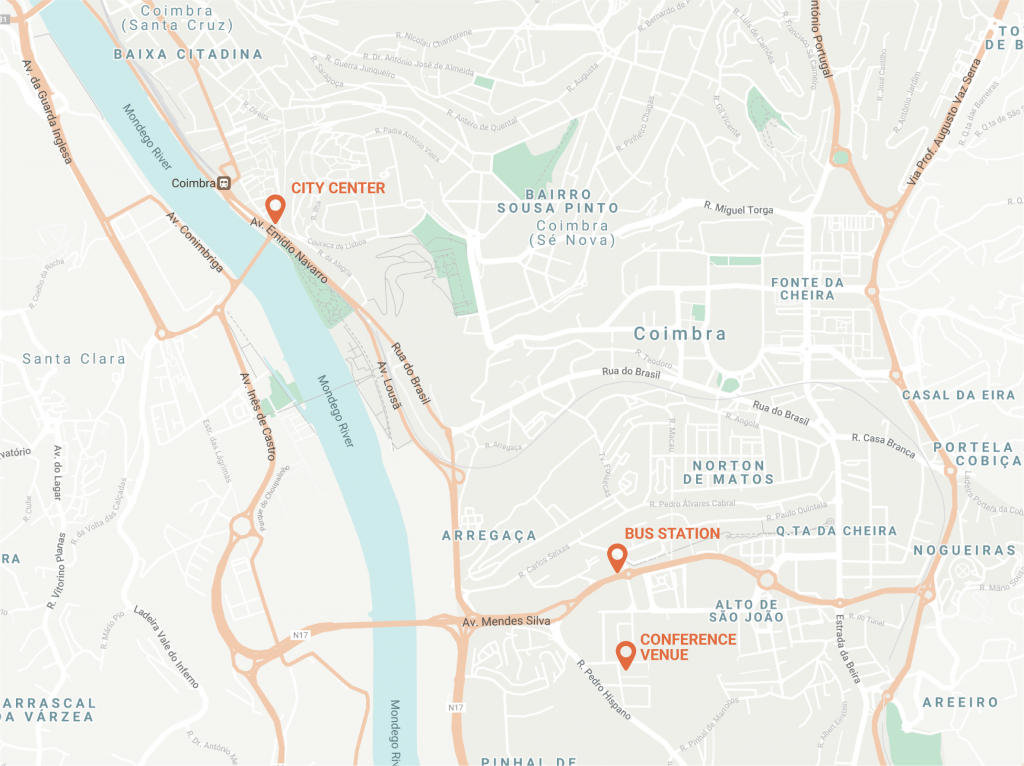 COIMBRA, CITY AND UNIVERSITY
The City of Coimbra has its own mystique accumulating two millennia of history and culture. The city dates back to the roman settlement of Aeminum, then alano, suevo, arab, moçarabe, reconquered in 1061, later became the first portuguese capital. The first portuguese university founded in 1290, later moved to the city and became the main knowledge production center for the Portuguese speaking world, from Brazil to Macau, until the end of the 19th century. Two thousand years of cultural exchanges left plenty of cultural diversity traces, and the city stands today as a living lab of multiculturality, and a prowd UNESCO Heritage site.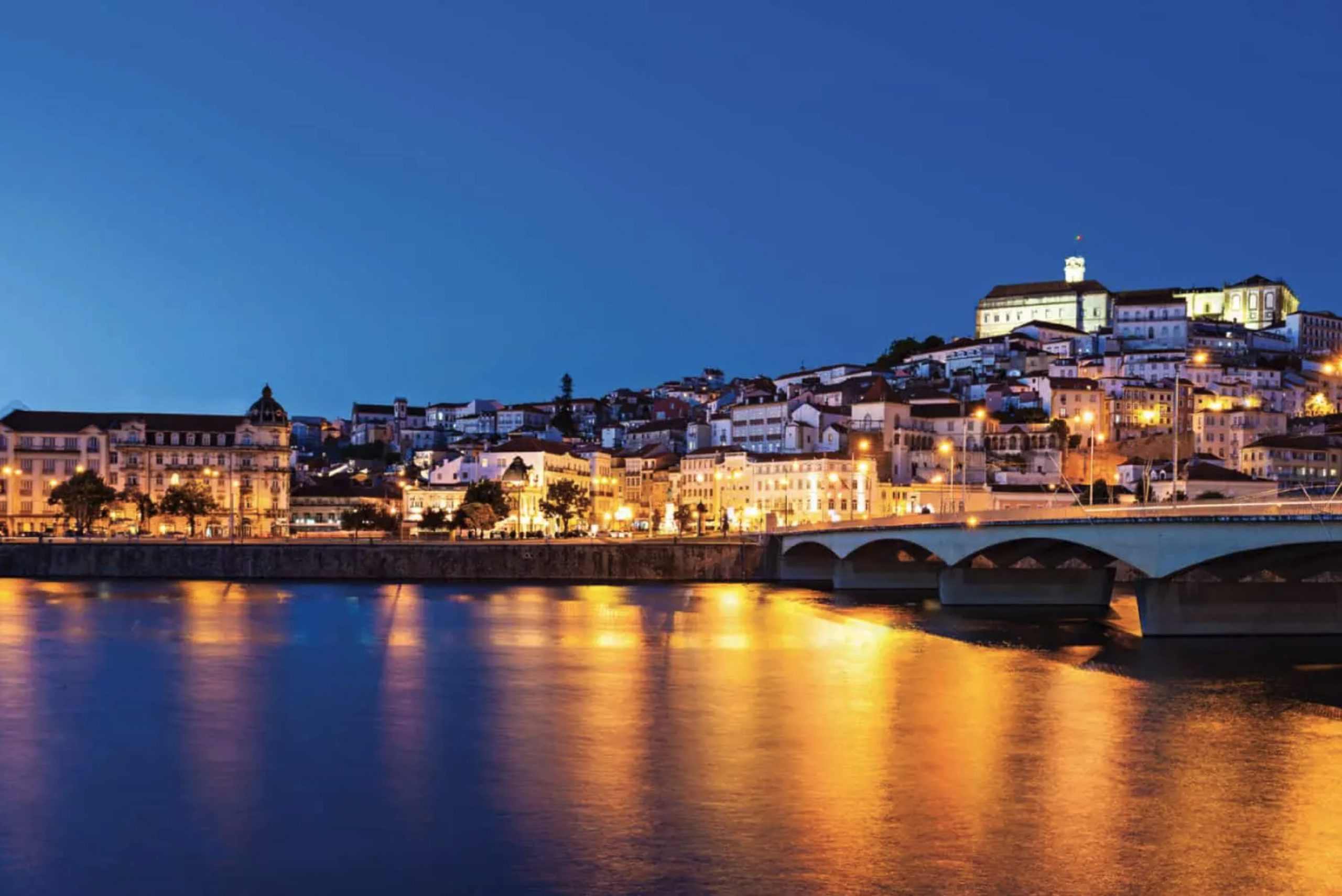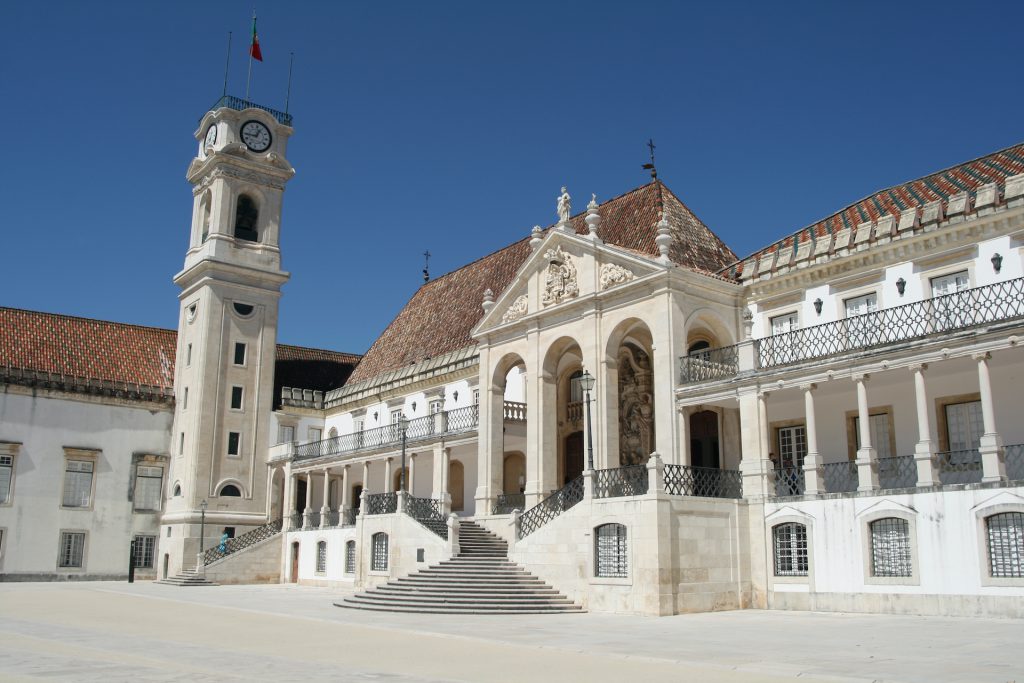 Since 2013, the University of Coimbra, Alta and Sofia, Upper and Lower City were integrated into the UNESCO World Heritage list. This classification refers to Architecture and the immaterial dimension with the role of the University of Coimbra in the Portuguese language and culture. As a world heritage site, Coimbra and its surroundings have plenty to offer when it comes to natural and built places to explore. Coimbra is a medium size university town located at the center region of Portugal, approximately 100Km south of Oporto and 200Km north of Lisbon. The region was elected favourite destination in 2017. Home to 100.000 regular inhabitants, one fourth of those are students, and of those 5000 are international, which lends a special character and academic life in the city. In spite of its central location, it remains outside the more frequent tourist routes.

TRAVELING TO COIMBRA
The city has easy access by plane, airport shuttle, train and bus. The city of Coimbra can be easily reached from Oporto Airport (100Km north) or Lisbon Airport (200Km south), by airport shuttle, train or by car. (Or even from Spain if you care to drive from Madrid.)
Direct flights are available to Oporto and Lisbon, from major European cities and there are several frequent touristic flights from many other cities. Lisbon is also a common destination for flights from all continents. Portugal has a very welcoming policy to visitors with most passports without requiring a Visa. However, you should check with your travel agent what applies to your passport and ask the organization for a welcoming letter when needed. Visitors from Shengen member states can travel with citizen card identification. Visitors should prepare and take appropriate measures such as having a COVID test before traveling and or getting the digital certificate of testing and or vaccination.

HOW TO GET TO COIMBRA
Most convenient ways to get to Coimbra are by rail and road.

Airport Shuttle
There are regular shuttles from Lisbon and from Oporto airports. Details on schedules and prices at https://www.airportshuttle.pt/). These buses run almost every hour.

By Train
National trains from the main Portuguese cities, such as Lisbon and Porto, operated by the CP (Portuguese Railways) arrive hourly to Coimbra. In addition to the main "Coimbra B" rail terminal, the city also has the "Coimbra A" station in the city center which is served as a connection. Schedules and fares available here https://www.cp.pt/passageiros/en.

By Car
From Lisbon (South) or Porto (North) take the A1 highway. The A14 highway connects Coimbra to the coast (Figueira da Foz), which accesses Lisbon and Porto by new highways, closer to the coast: A17 and A8 to the south, and A17 and A29 to the North. The IP3 connects Coimbra to the interior of the country (Viseu) and, A25 to the Spanish border.

By Bus
Regular bus services connect several cities, towns and main localities of the country to Coimbra. The main operators are Rede Expressos (https://www.rede-expressos.pt/en) and Expressus.

At Coimbra
There is a local taxi service, app enabled, and several inexpensive bus lines (SMTUC). More detailed info will be provided later.

ACCOMMODATION
The city of Coimbra offers various possibilities of accommodation. There is a large number and variety of hotels and other types of accommodation, with a range of prices from €130 for a 4*/5* hotels to €50 for a 2*/3* hotels. Please check distances to the main venue with your booking site. We will provide a map with closest options within walkable distance.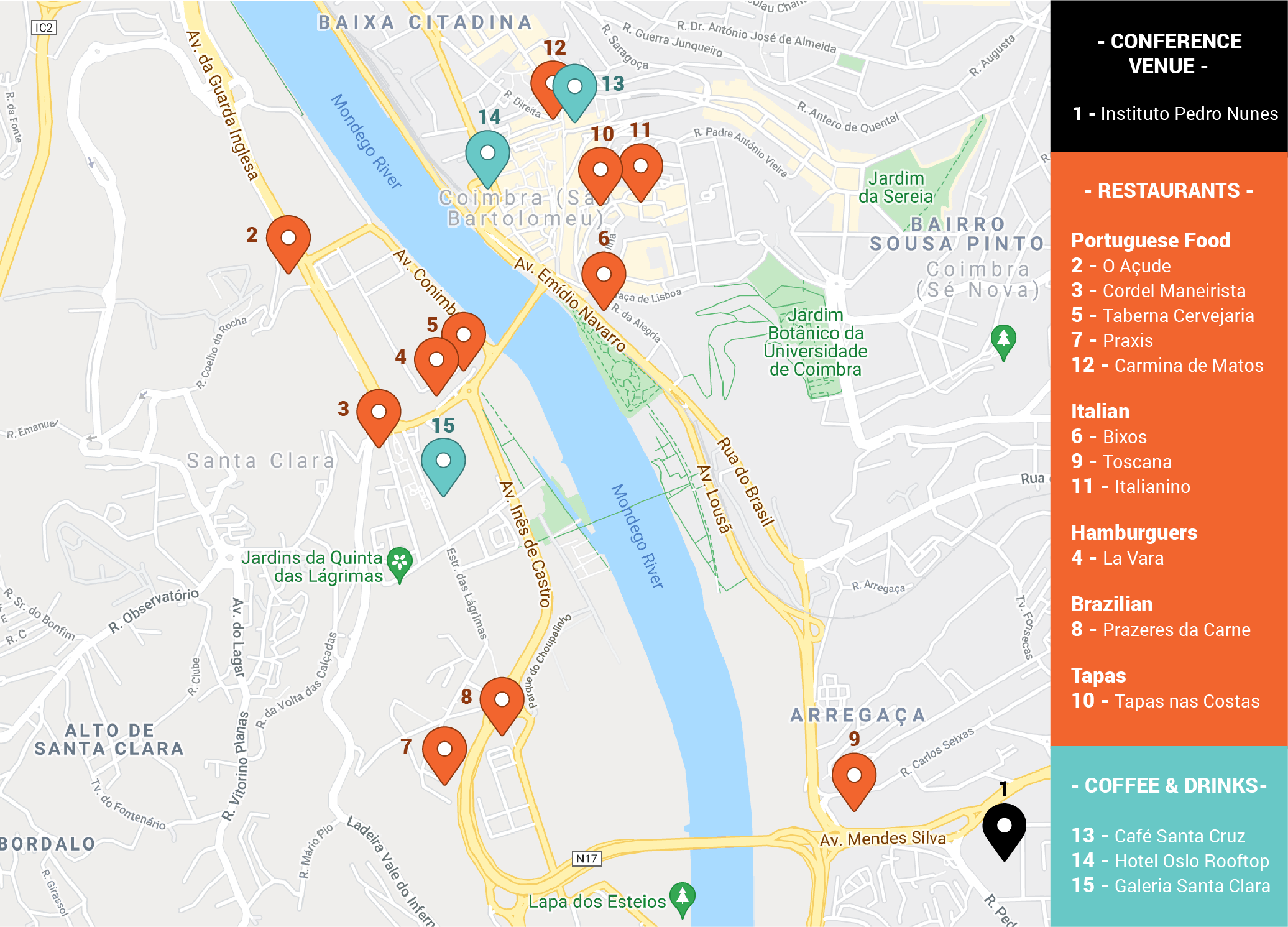 1 – Instituto Pedro Nunes
https://g.page/InstitutoPedroNunes?share

2 – O Açude Restaurante
https://goo.gl/maps/n6KCTJVyQBJpkuxD9

3 – O Cordel Maneirista
https://goo.gl/maps/N5bNBhFCPEyCCRSX7

4 – La Vara – Handmade Burgers & Portuguese Wines
https://g.page/lavaracoimbra?share

5 – Cervejaria A Taberna
https://goo.gl/maps/34BDxZiUsmwfSGhC9

6 – Bixos Coimbra
https://g.page/bixoscoimbra?share

7 – Praxis
https://g.page/praxisbeer?share

8 – Prazeres da Carne
https://goo.gl/maps/Y5hHW8R2dfZx1AMj7

9 – Toscana
https://goo.gl/maps/LJPxmV67N9Ej3zxF8

10 – Tapas nas Costas
https://goo.gl/maps/QE4SGF1FFEwJicud6

11 – Italianino
https://g.page/Italianino_Coimbra?share

12 – Carmina de Matos
https://g.page/carminadematos?share

13 – Café Santa Cruz
https://goo.gl/maps/EjEAfZpwMqmsXKno7

14 – Hotel Oslo Coimbra
https://g.page/hoteloslocoimbra?share

15 – Galeria Santa Clara
https://goo.gl/maps/CyXLY9YzY2EzaBpL9